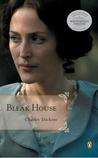 Bleak House
by
Charles Dickens
My rating:
5 of 5 stars
I listened to this on
It was
extremely
good, and I had been so reluctant to read or listen to this book for
years
. The title is so depressing, and also the PBS Series years ago starring Diana Rigg as Lady Dedlock, where she is all in black, just gave me the creeps. I love Diana Rigg, but something about the combination of Victorian law courts and people being cheated out of their inheritances just sounded so horrible, I didn't want to go there.
But there is so much more to this book. It is
not
all doom and gloom. It is a complex novel, rich with story lines and amusing, lovable and horrible characters. As always, Heather Ordover (the podcaster) does a great job of giving an intro to each chapter, and the narrator is almost unbelievably good in the multiple voices she had to perform for this novel. I highly recommend listening to it on Craftlit. Even if you don't do any crafts, you can skip that part because she gives a "book talk starts at" time so you can fast forward over the craft segment. This book was part of the "premium content" of the podcast, not the free content, but you can also buy it separately at the
Crafting-a-Life shop
.
View all my reviews